Best Portable Jump Starter
Updated: March 2020
Best Portable Jump Starters
There are various types of car battery jump starters that you can get your hands on nowadays – all the way from mini jump starters and portable jump starters to heavy-duty battery jump boxes or industrial grade battery boosters that would start a tank if you needed to. Today, we are on a quest to find the best portable jump starter.
With the technology advancing quickly and the general trend to go everything-portable, car battery jump starters are no exception. Most of the best portable battery jump starters use Lithium-Ion (Li-Ion) technology in which lithium ions move from the negative electrode to the positive electrode during discharge and back when charging. Li-ion batteries (LIB) use an intercalated lithium compound as one electrode material. The electrolyte, which allows for ionic movement, and the two electrodes are the constituent components of a lithium-ion battery cell. Lithium-ion batteries already power your cell phone and your laptop and they are also perfect to be used in jump starters.
What are the advantages of portable jump starters?
Weight – generally weighing around 1 lbs (some of the best ones, as you'll see below, even less than that), they are light enough even if you want to take them with you for a hike or camping trip as a power source for your mobiles and cameras
Size – whatever they say to you, size does matter, especially when you are in the market for the best portable battery jump starter. It generally has to fit in a glove box or backpack easily without taking up too much space. They usually come in a pouch for easy storing and carrying.
Features – a USB port and a flashlight is a must for a decent portable booster pack. Most of the greatest jumper packs even have 2 USBs, laptop charging ports, various cables and adapters, compass or emergency modes for its flashlight.
Power – last but not least it's the ability to do its primary job – to jump-start your dead car, ATV, motorbike, boat or truck battery. Some of these little beasts carry enough power to start large petrol or diesel engines so unless you drive a massive V12 in arctic conditions, they will help you to get home safe.
It's all of the above combined that makes portable battery jump starters such a great addition to your everyday holiday gear – instead of bringing a torch, a massive power pack for your electronics and jumping cables (or a 12-pound battery booster), you have all of it in a small and easy to carry package always ready to help.
Without further ado, let's take a look at contenders for the title of the best portable jump starter.

Jump Starter name
Amps/Capacity

Dimensions
Features
Weight
NOCO Genius Boost Plus GB40

1000 Peak amp



6.7 x 3.2 x 1.7 in
2xUSB, 2xLED, 12V Output,
2.4 lbs
DBPOWER 800A Peak 18000mAh

800 Peak amps, 18000mAh



7.08 x 3.54 x 1.57 in
2x USB, On/off button, display, LED flashlight, compass, 12V/16V/19V output
1 lbs
GOOLOO 800A

800 Peak amps /15000 mAh



6.2 x 3 x 1.4 in
2xUSB, On/off button, power indicator, LED flashlight, 12V/19V output
1.1 lbs
NOCO Boost HD GB70 2000 Amp Jump Starter

2000 Amp



6 x 2.5 x 8.6 in
2xUSB, On/off button, LED flashlight, 12V 15amp output
5.0 lbs
TACKLIFE T6

800A Peak 18000mAh



6.3 x 3 x 1.6 in
2x USB Ports(One is 5V/9V QC)
12V 10A DC Port
1.16 lbs
BEATIT G18 2000Amp

2000 Amps,
21000mAh



7.6 x 3.5 x 1.5 in
2x USB - 5V/3A, 9V/2A, 12V/1.5A), Both with QC3.0 (Quick Charge 3.0), High Quality Hard EVA Carry case
1.47 lbs
Rugged Geek RG1000 Safety – NEW 1000A Portable Lithium Booster Pack

1000 Peak amps



6.3 x 2.9 x 1.3 in
2xUSB, On/off button, LED flashlight, laptop output
4.32 lbs
Audew Upgraded Car Jump Starter 2000A Peak 20000mAh

2000A Peak 20000mAh



8.7 x 3.5 x 1.1 in
2xUSB, On/off button, LED flashlight,
3.3 lbs

Noco is one of the most famous brands of portable car battery jump starters. They offer a wide variety of models and BG40 with its lithium-ion battery (LIB) is capable of reliably starting most of the vehicles you see on the road including 6L engines and sometimes more. The build quality is simply superb (IP65 compliant), the feel of the unit is solid and well made. The rubber covers of the ports keep them clean and protected from dust and splashing water, making it a great choice for boats and the capability to work in temperatures from -22F is unmatched in this class of jump starters. It offers a mistake-proof design with spark-proof technology and reverse-polarity protection. There is also a wide range of accessories you can get like cable extensions or a hard case (both sold separately, though). On the downside, it's pricier than other brands and one of the heavier ones.
Pros
Performance and reliability
Design and construction
Well made and durable clamps
Operating form low temperatures
IP65 compliance
Even stronger models available
US-made
Cons
Price
One of the heavier ones among portable jump starters
[embedyt] https://www.youtube.com/watch?v=YKVH0CcWeMo[/embedyt]
Review Final Verdict
This portable car battery jump starter outperforms most portable jump boxes thanks to its 1000A peak power. Well made, reliable and powerful. Could be cheaper and also the power comes with a bit of a weight. If this model in not enough for you, there are stronger ones on offer with the same build quality (see our NOCO  GB70 review)

This compact, yet powerful portable lithium car battery jump starter rated at 800 peak amps has enough capacity for repeated jumpstarts without losing an excessive amount of power whilst cranking the engine. It packs a lot of power in a relatively small and sturdy body. It also has overcurrent, short circuit, overload, over-voltage and over-charge protection which makes this device easy and safe to use even by someone who has never used a jump starter before. Features like two USB ports and a flashlight are standard among portable battery jumper packs and handy as you can use it to charge your phone, tablet or laptop several times using 8-in-1 laptop adapters that come with the unit. It all comes with a semi-hard case so it's easy to store in your glove box. Those who will take this battery pack hiking might also appreciate the built-in compass.
Pros
Power and size
3-year warranty
A carry case that fits everything
Lots of accessories (Flashlight, USB, various charging cables for phones and laptops)
A separate Off/on switch with an automatic shutoff feature that kicks in after a period of inactivity
Digital blue backlit display that indicates battery percentage and charging mode
Enough power to jump-start 8-cylinder engines
Cons
Absence of Apple charging cables but these can be bought separately for cheap
Instructions are sometimes not very clear
[embedyt] https://www.youtube.com/watch?v=Rgy4C5LTKoU[/embedyt]
Review Final Verdict
This portable car battery jump starter packs a ton of power and capacity for repeated jump starts of even bigger engines (4.5 – 6L). It's a sturdy and well made unit, the flashlight and two USB ports make it a perfect accessory for almost any car as well for charging your phones whilst camping and one of the best portable jump starters on the market.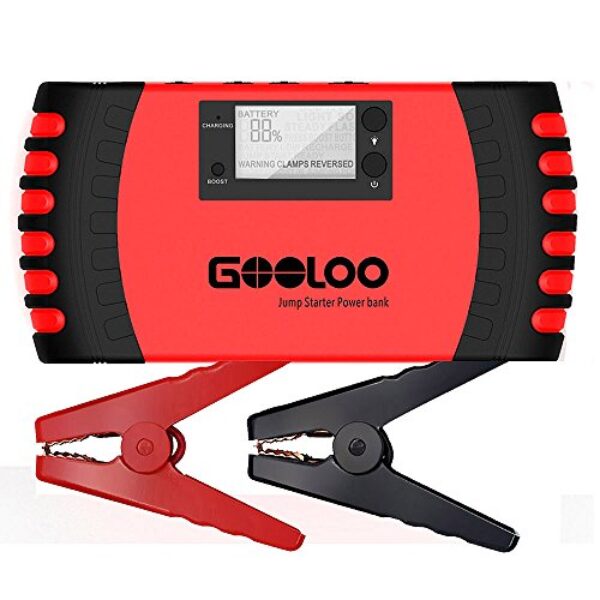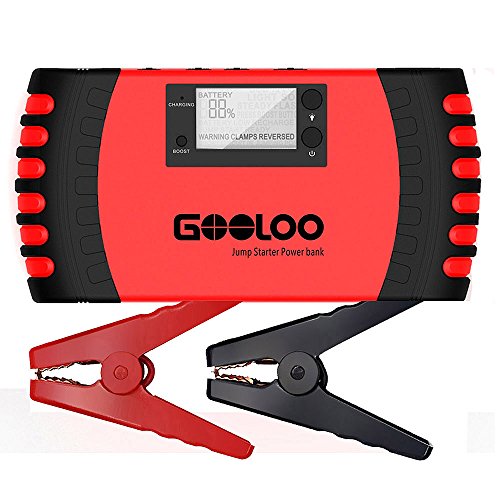 Capable of starting V8 engines and weighing just 1.1 pounds this little beast with Li-ion battery is a strong contender for the best portable jump starter race. It's small enough to fit under a motorcycle seat, backpack or glove box (comes with a zip-lock canvas case). Its clamps have over-current; short-circuit; overload; over-voltage and over-charge protection for ease and safety of use. 8 in 1 laptop adapters are handy to keep your electronics charged (2xUSB, 12V/19V output) – this particular portable battery jump box has 15000mAh battery so will manage to charge things a few times. All this makes it a perfect companion for adventure, outdoor, daily commute, emergency and travel in high and low temperatures (-4°F to 140°F) and comes with 18 months warranty.
Pros
Size and weight
Performance
Design and construction
12V output
Accessories
Cons
Clamps could be sturdier and have better grips
[embedyt] https://www.youtube.com/watch?v=qvpqfUf04JQ[/embedyt]
Review Final Verdict
This little portable jump starter just works. Small yet powerful and with enough features and accessories to serve its purpose. One of our favorite portable battery boosters.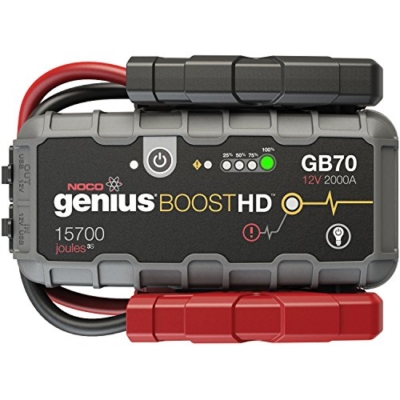 Long story short, for larger engines you need more punch and GB70 is exactly that type of battery booster pack. Powerful, yet still reasonably sized, this is undoubtedly one of the best jump starters out there. F250s, Kubota tractors, V8 beasts, you name it – it is capable to start up to 8.0L gas and 6.0L diesels.
It is fitted with LED flashlight, a USB port to charge cell phones, tablets & cameras, a 12V output for electronic devices. It also sports Reverse polarity protection which helps you avoid any damage to the car if you connect clamps to the wrong terminals. All that fits in the handy pouch that comes with the jump starter pack. Used by mechanic professionals and drivers alike, this mini booster pack will start a majority of common vehicles and even tractors.
Pros
Power
Strong clamps
Ultra-safe + reverse polarity protection
12V power port
Operating temperatures
[embedyt]https://www.youtube.com/watch?v=7Q65TAdsriY[/embedyt]
Review Final Verdict
GB70 is a powerful battery booster pack designed to last and jump start larger engines. Well-designed and built body with durable clamps and smart & safe technology to protect your car. 
Check Price and Reviews on Amazon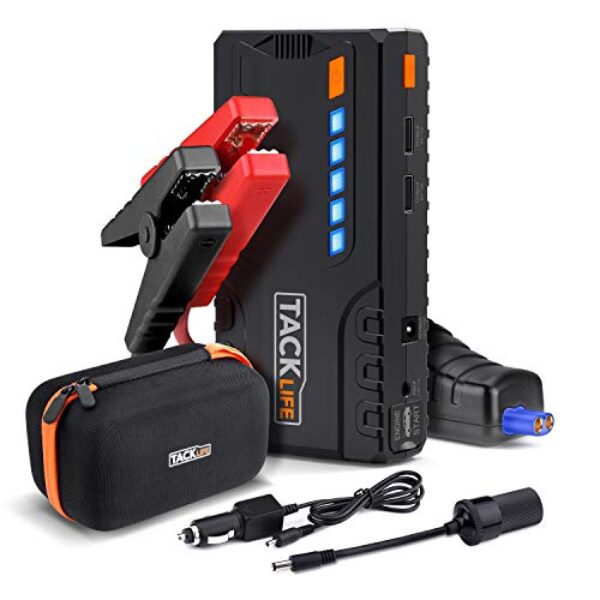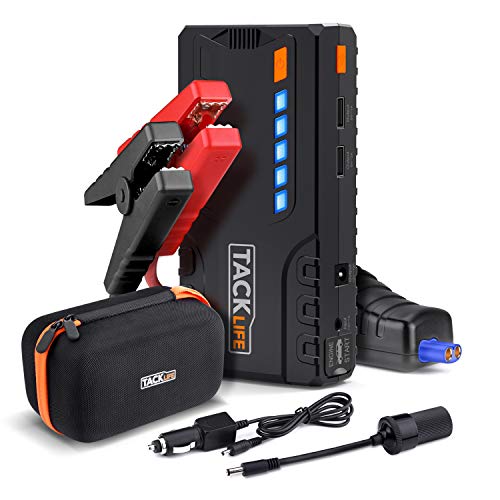 Tacklife T6 lithium portable car battery jump starter with its 800A peak amps is capable of jump-starting most of the cars (including V8s and V12s), boats, trucks, Tractors, SUVs, Motorcycles, Lawnmowers, etc. It features heavy-duty jumper clamps with built-in circuit protection, spark-proof technology, display, 2 USB ports and a flashlight. It sports a new generation dual USB outputs that support quick charging so if you happen to use it as a power bank, your gadgets will get charged fast. A nice touch is that T6 will automatically shut off when not in use so you don't accidentally leave it on to come back to a dead jump box when you need one. To top it off, it comes with a super-practical pouch that fits all the small cables bit bits together in a small package.
Pros
Reliability and power to start small and large engines
Industrial-grade clamps
Customer service
Cons
No 12V/19V output like some other jump starters
[embedyt] https://www.youtube.com/watch?v=MeRLvMKCBKY[/embedyt]
Review Final Verdict
Tacklife has earned its place on the list of the best jump starters thanks to its quality and capability to start engines big and small. It comes with a lot of bells and whistles that some of the more expensive jump starters don't sport and we would feel safe having one in a glove box.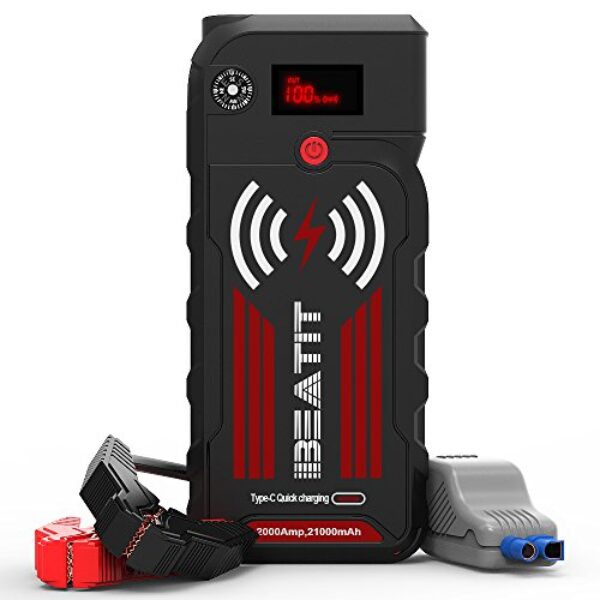 This small light-weight and lithium portable jump starter is another one from the new generation of jump starters sporting quick charge and in this case, even wireless charging of your phones or tablets. It comes with extended wires so it is easy to clamp the car batteries, even larger ones. At 2000 Peak amps it is capable of jump-starting the likes of 5.4 Ford truck or V8 for several times. It features Integrated Voltmeter and, dual USB output (5V/3A, 9V/2A, 12V/1. 5A) and 10W wireless charge the power to deliver 5 charges to likes of iPhone X or Galaxy S9. The complete package comes with a sturdy case and a wall charger.
Pros
Reliability and power
Size
Extra-long cables
Integrate voltmeter
Wireless phone charging
Wall charger
Cons
The integrated compass is more of a flimsy gimmick
[embedyt] https://www.youtube.com/watch?v=–c8DHSGlYA[/embedyt]
Review Final Verdict
This is a great little and versatile jump starter that fits your glovebox as well as a backpack if you need it on the go. It packs enough power to save you when you need it and those factors make it a serious contender for the best portable jump starter.
Did not find what you were looking for among best portable jump starters? Check our list of best jump starters!

Considering how compact (size of a smartphone and weighing less than 1 lb) yet powerful this lithium car battery jump starter is, and with its ability to boost most gas-powered vehicles up to 7.0L gas and diesel engines up to 3.5L, it surely is one of the best portable jump starters out there right now.
This booster pack comes fitted with 2 USB charging ports (5V/2.1A) for your mobile phone or tablet, dedicated laptop output, built-in multi-mode LED flashlight and spark-proof jumper cables that make it impossible to short circuit in the event that the jumper cables are attached incorrectly. Also, it comes with a soft carrying pouch and a 12V car and a wall charger. Due to the small size, it fits the glove box easily.
Pros
Performance
Design and construction
12V laptop output
Accessories
[embedyt] https://www.youtube.com/watch?v=vTRymPnDXkY[/embedyt]
Review Final Verdict
Rugged Geek RG1000 is an impressive unit for its price. Strong yet small enough and well made and backed up by an excellent customer support, this should be one of the favorites for your glove box.

With its 800A this Lithium-ion car battery portable jumper pack stands out due to the battery capacity which gives it enough power to start V8 engines and its rugged, splashproof and dustproof construction enables it to withstand a bit harsher conditions than most jump starters in the "portable" category, making it a perfect accessory to ATVs, motorbikes or your next camping trip. Fitted with USBs, compass and intelligent clamps (over-current; short-circuit; overload; over-voltage and over-charge protection) to ensure the safe operation. On the downside, the cables could be longer and battery lasting longer.
Pros
Performance
Design and construction
Cons
Battery life
Lack of laptop output
[embedyt] https://www.youtube.com/watch?v=7Vj03YVaa4g[/embedyt]
Review Final Verdict
Suaoki U10 is an interesting alternative, especially for those being outdoors quite often and requiring their gear to be a little more protected from elements.

Anker has earned a strong reputation through quality (mostly battery-related) products and a fantastic customer service. This portable car battery jump box with 400A is great for any vehicle with up to 3L engine and features 2 USB ports, flashlight, reverse polarity, surges and short circuit protection. It comes in a handy pouch that fits perfectly under the car seat. Batteries last long enough so even after a few months sitting in the car it still maintains the battery charged. This all is backed by Anker's 18-month warranty.
Pros
Reliability and power to start smaller engines
Weight and size
Customer service
Cons
Not strong enough to start bigger V6 or V8 engines
[embedyt] https://www.youtube.com/watch?v=Uh_pz_YbvTY[/embedyt]
Review Final Verdict
Anker compact jump starter maybe doesn't carry the specs like some other contenders but what we like about this product is the reliability and the technology behind it and Anker's customer service
Did you know???
Most people think about their car battery in the winter, but warm temperatures are actually your battery's worst enemy. Hot weather means high temperatures under the hood, which accelerates corrosion inside the battery. It can also cause water to evaporate out of the battery's liquid electrolyte. The result? Decreased battery capacity, a weakened ability to start an engine and, ultimately, shorter battery life.
It is important to prepare your battery for the winter season during autumn. If there's any sign of the battery struggling now, the likelihood is that it'll let you down at some time during the winter, particularly if you have an older battery. It makes sense to test or replace your battery now to avoid the hassle of an unplanned failure in the winter
It's important to properly maintain the components around your battery too. Make sure cables, posts and fasteners are in good shape, and check battery connections to confirm they are clean and tight. Use a stiff wire brush to clean off any corrosion and secure the battery to the battery tray to prevent excessive vibration.