People love to go on long drive with family to create awesome memories for life. However, in order to ensure trouble-free journey, it is important to look for a reliable jump starter kit. Since the market is loaded with so many competitive products people often find it difficult to choose the most trustworthy solution. But don't worry! Here we are going to talk about Stanley J509 Jump Starter Kit that is designed to serve people on the go. This product is loaded with so many advanced features that can make your journey free of troubles.
It happens many times that we sit in the car and click to turn it on but the dreaded battery doesn't allow you to start your ride. And the most annoying fact is that it often happens when we are not in a situation to afford a delay. If you want to avoid such complicated situations in life, it is good to find a reliable jump starter that can instantly bring your car into motion.
No matter whether it is summer or winter or you just forgot to switch your lights off, batteries of the vehicle can die due to many reasons. You might have tried the traditional methods of adding life to the battery but they often fail. However, the best thing to know is that most of the time, you can bring this battery into working condition with a jump starter.
Stanley J509 Jump Starter Kit has created the best solution for all such situations so that people can enjoy their outdoor trips without any trouble. With this advanced jump starter kit, you need not use jumper cables from other vehicles to start your car; instead, it can provide an instant trigger to the dead battery. This jump starter can provide an instant jump start to the battery with 1000 peak amp value. This product is loaded with so many incredible features that are listed below.
Features of Stanley J509 Jump Starter Kit:
Easy to Use:
People find this jump starter kit quite easy to use. One simply needs to hook the clamps on the starter to the vehicle battery and switch it on. Now just start your vehicle and you will be ready for the ride ahead. Moreover, it is safe to use as well because the audible alarm provides immediate reminders about whether you have connected clamps with exact polarity or not. The reverse polarity alarm is loud enough so that wrong connection can be avoided.
Air compressor:
Manufacturers at Stanley have added many cool features to Stanley J509 Jump Starter Kit. The essential one is that this product has a 120 PSI compressor along with brass tipped SureFit nozzle that ensures secure connections. It means you can easily pump up your inflated tires using this powerful air compressor. It can easily handle bicycle tires, sports equipment, a car tire and many more that is required to be pumped up.
USB Charging:
Stanley J509 Jump Starter Kit supports USB charging facility as well. This power kit cannot just power up the dead batteries of the vehicle rather at the same time it can also charge your portable devices. You can connect two devices at once, one using the USB port and other via 12 volt DC port. It provides an easy solution for charging gaming systems, laptops, tablets and cell phones.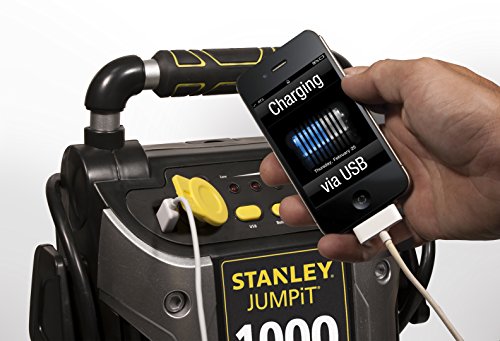 DC Plug:
You will be happy to know that with the help of DC plug you can easily charge your Stanley's Jump Starter by connecting it directly to the DC port of your vehicle. In this way, you can keep your power backup ready all the time on long hour journeys.
LED Light:
Manufacturers have added a special LED light to this jump starter that keeps on rotating up to 270 degrees. It means if you want to trigger your vehicle instantly when there is dark all around, the starter kit will easily help you know its location with the help of indicating light.
Pros:
It offers 1000 peak battery amps with 500 amps instant starting power.
This system is equipped with number 6 AWG cables and heavy duty clams.
Loaded with a visual polarity alarm that is loud enough.
Offers easy charging with USB and DC plugs.
The high power indicating lights can rotate up to 270 degrees.
Stanley J509 Jump Starter Kit has a power indicator.
Cons:
Verdict:
Stanley J509 Jump Starter Kit is loaded with all classic features that make it best choice for all vehicle owners. It is an instant solution for dead batteries and can also provide efficient charging facility for your long hour journeys. Hence, it is definitely a must buy the product for all vehicle owners. It also made it to our list of 7 best jump starters on the market.

Delivers serious jump-starting power with 1000 peak amps
Reverse polarity alarm alerts when there is an improper connection
Features a high-powered LED light that rotates 270 degrees for low light repairs
& Free shipping
Last update was on: September 28, 2023 6:41 pm
Delivers serious jump-starting power with 1000 peak amps
Reverse polarity alarm alerts when there is an improper connection
Features a high-powered LED light that rotates 270 degrees for low light repairs
Built-in 12V DC outlet and USB port provide portable power for electronic devices
Jump starter should be charged every 30 days when not in use; Charges using a standard household extension cord (sold separately)