NOCO Genius Boost HD GB70 Jump Starter Review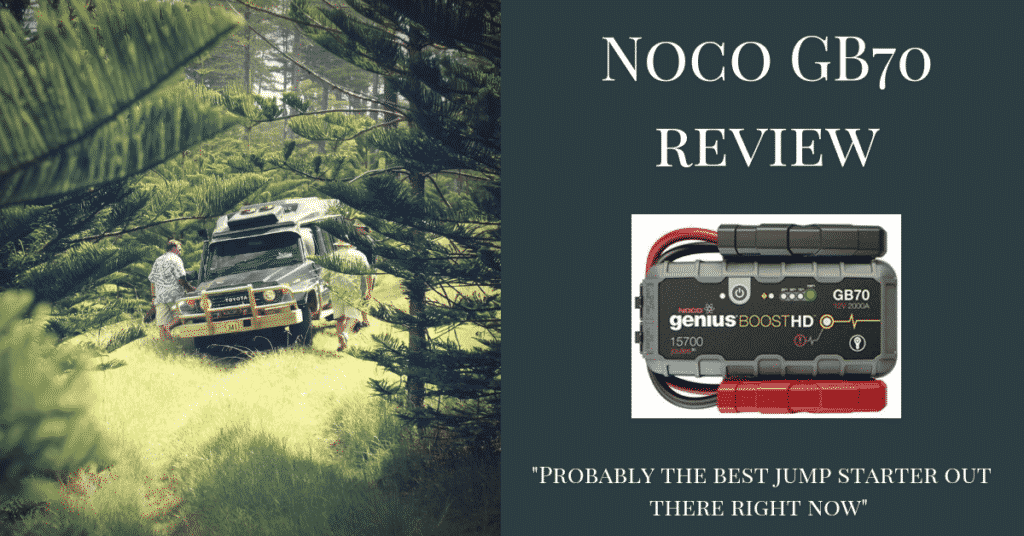 Detailed Review of NOCO GB70 Car Battery Jump Starter:
Years ago, it was a challenging task to deal with dead batteries. Vehicle owners needed to call professionals for assistance at the roadside. But with more advanced technologies, all such car battery-related issues can be handled with ease. Well! All this happened due to the development of battery jump starter products that have the efficiency to bring a dead battery into working condition. Now drivers can make their car ready for the ride within a few minutes even without help from anyone else.
Although the market is loaded with a variety of battery jump starter products; we will focus here on the NOCO GB70 Car Battery Jump Starter unit that has gained huge popularity due to its impressive performance. This product is capable enough to bring your car battery to normal condition even when it is placed under cold, harsh weather conditions in the peak winter season. In the GB70 review below we help you to find detailed information about this product.
Our observations:
Powerful and handy:
You will be happy to know that NOCO GB70 is made up of strong lithium-ion jump starters. It is capable enough to deliver 15700 joules and 2000 amps to start any dead battery and that too within a few seconds. Experts reveal that this portable jump starter unit is designed by using spark-proof technology. At the same time, it is designed with a polarity protection circuit and ensures harmless operation to inexperienced people as well. GB70 jump starter review says that its awesome performance makes it stand ahead of many competitive units in the market.
Compact and portable design:
Most people report that they don't like jump starters with heavy size and bulky design because they are difficult to move from one place to another. Such large size jump starters also become difficult to store and carry as well. But there is nothing to worry about with NOCO GB70 car battery jump starter. This latest unit is designed using advanced technologies. Moreover, Noco Genius Booster Company designed this jump starter unit to ensure higher portability and easy movability. Vehicle owners will be surprised to know that the latest jump starter units can be easily stored in the sidewall pocket, glove box and trunk of the car as well.
A versatile choice for every user:
Due to its simple design and high efficiency, this jump starter is commonly used in large government organizations, police departments, in armed forces and in industries as well. The great news for users is that unlike other products, NOCO GB70 car battery jump starter works well with almost all types of brands and a wide range of vehicles. This powerful and well-designed unit can be used to jump-start heavy trucks, cars, and boats that are driven by diesel or gas. The NOCO jumper is the perfect choice for 8 litres gas engine as well as for 6 litres diesel engine. Its services are not only limited to jump-starting your vehicles; rather, at the same time, it can also help to charge your tire pump, phones and many other electronic types of equipment that work on 12V supply.
Remarkable charging capacity:
When fully charged, NOCO GB70 car battery jump starter is designed to deliver jump start within the range of 20 to 40 jump starts. However, even after having a higher charging capacity, this device cannot harm your engine even if you end up making the wrong connections. It can also keep you safe if you accidentally touch the clamps. Manufacturers say that the lithium-ion battery contained by this jump starter unit can hold a charge for almost one year. So, you can ensure a long-life service with this product.
Highly reliable and durable:
This jump starter has been used by thousands of people so far, and they are happy with its performance. Along with the high-performance operation, it has the ability to withstand heavy usage and rough handling as well. Indeed, NOCO GB70 car battery jump starter will never disappoint you with its performance.
Pros of NOCO GB70 car battery jump starter:
Most of the buyers around the world are highly satisfied with the budget-friendly market price of NOCO GB70 car battery jump starter.
It is rated high because of its compact, handy, easy to move and lightweight design. You can easily travel with it as it doesn't consume much space in your car.
Once it is fully charged, it can easily serve 20 to 40 jump-start sessions. You can rely on this product for its high-quality performance.
GB70 booster review says that NOCO GB70 car battery jump starter is loaded with a wide range of safety features including reverse polarity design and spark-proof technology.
It is not just a basic jump starter unit; rather it is much more than that. Irrespective of its small size, it can ensure consistent performance for all your jump-start sessions. Moreover, it can also charge your electronics during long hour journeys.
This product has been used by numbers of people till now, and they are happy with its quality of connections, cables, wires and the ability to charge your phone 2-3 times before demanding recharge.
It offers the best solution to all car emergencies with its tough and durable design. One additional case is also supplied by manufacturers to ensure the longevity of the product
Another essential benefit of this product is its additional light. Note that most other competitive units are designed with a basic LED, but the NOCO GB70 car battery jump starter is capable enough to serve as a flashlight with its high-power system.
The light system of this jump starter unit is loaded with a 400-lumen bulb. Its bright light is clearly visible to motorists. Moreover, it has 7 different modes of operation, and you can also operate it as an SOS strobe light for attracting help at the time of emergency.
Cons of NOCO GB70 car battery jump starter:
It takes a bit longer time to get fully charged.
Does not come with a case, only a pouch (case available separately)
What is in the Box?
After going through the above features, most of you might be interested in making an investment in this advanced jump starter unit as it can save you from lots of trouble during your journeys. But before that, it is important to know what you will get with this product. Below we have highlighted all the items that are included in the NOCO GB70 car battery jump starter package:
GB70 jump starter.
USB charging cable.
XGC cable.
XGC female plug.
HD battery clamps.
Microfiber storage bag.
XGC male plug.
One-year product warranty.
Conclusion:
No one likes to face the hassle and frustration associated with the mid-journey vehicle battery issues. If you want to make all safety arrangements in advance, consider investing in a NOCO GB70 car battery jump starter ahead of time. This portable unit can ensure long-term performance without even demanding any additional repair or maintenance.
Videos:

Start Dead Batteries - Safely jump start a dead battery in seconds with this compact, yet powerful, 2000-amp lithium battery jump starter - up to 40 jump starts on a single charge - and rated for gasoline engines up to 8.0-liters and diesel engines up to 6.0-liters..OPERATING TEMPERATURE : -4°F to +122°F (-20°C to +50°C)
& Free shipping
Last update was on: September 26, 2023 9:56 am
Start Dead Batteries - Safely jump start a dead battery in seconds with this compact, yet powerful, 2000-amp lithium battery jump starter - up to 40 jump starts on a single charge - and rated for gasoline engines up to 8.0-liters and diesel engines up to 6.0-liters..OPERATING TEMPERATURE : -4°F to +122°F (-20°C to +50°C)
UltraSafe - Safe and easy-to-use car jumper starter and jump pack without worrying about incorrect connections or sparks. Safely connect to any 12-volt vehicle with our mistake-proof design featuring spark-proof technology and reverse polarity protection.
Multi-Function - It's a car jump starter, portable power bank, and LED flashlight. Recharge smartphones, tablets, and other USB devices. It's easily rechargeable from any powered USB port in 6-hours at 2.1-amps. An integrated 400-lumen LED flashlight with seven light modes, including emergency strobe and SOS. Plus, a 12-volt, 15-amp outport port for powering any 12VDC devices, like tire inflators, inverters and more.
Advanced Design - Our most advanced car battery charger jump starter ever. Featuring high-discharge lithium technology for safe operation in any climate. A rugged and water-resistant enclosure rated at IP65. A rubberized over-molded casing to prevent scratching or marring of surfaces. And an ultra-compact and lightweight design weighing just 5.0 pounds.
In The Box - GB70 UltraSafe Portable Car Jump Starter, Heavy Duty Booster Clamps, XGC Male and Female Connectors, XGC Cable, Micro USB Charging Cable, Microfiber Storage Bag, User Guide, 1-Year Warranty, and Designed in the USA.