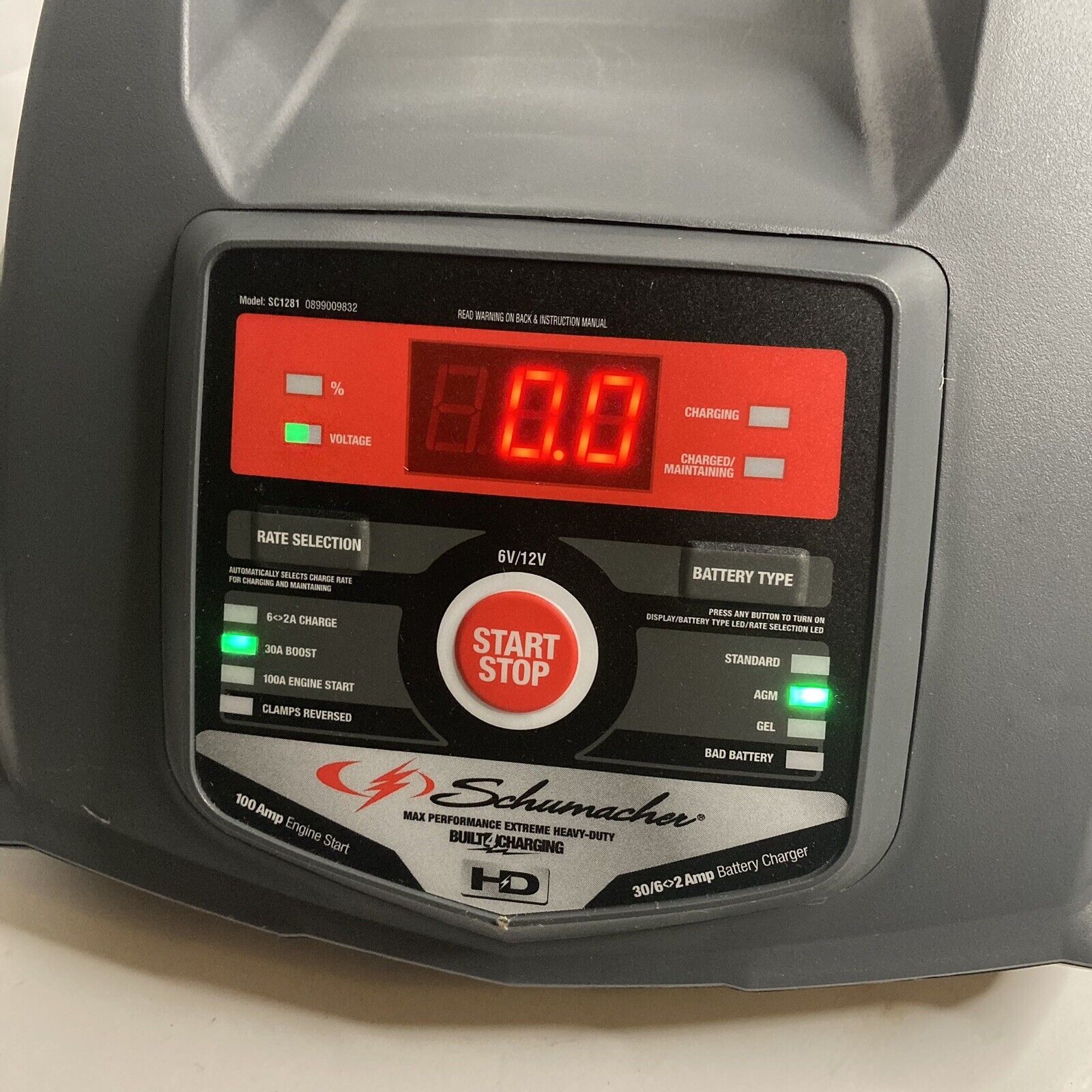 For millions of truck and SUV owners across the nation, trucks, and SUVs are not just a mode of transportation—they are often a way of life.
From the soccer dad who needs the extra space to take his kids and their teammates to practice, to the rancher who needs a powerful truck to haul items from the barn, owners find that these large vehicles play an increasingly important role in their everyday lives.
Trucks and SUVs are incredibly convenient on most days, but on occasion, the battery that gets the wheels moving just doesn't have enough juice to power up. When your large vehicle's battery is running low on charge, a car battery charger is a must-have. While some battery chargers can handle trucks and SUVs, you usually need a battery charge with a little more pop.
We had a chance to review the Schumacher SC1281 6/12V Fully Automatic Battery Charger and 30/100A Engine Starter with Advanced Diagnostic Testing and were very happy with what we found.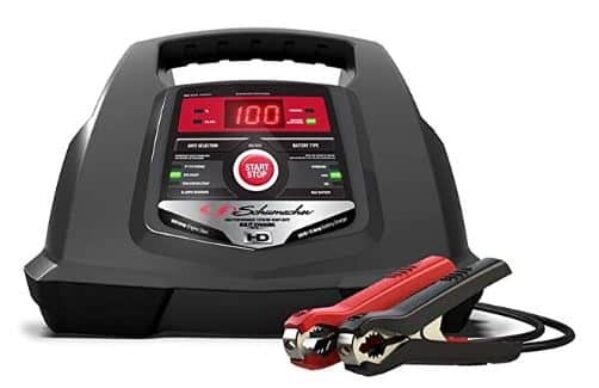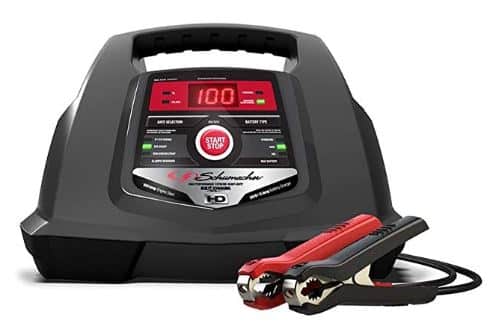 Highlights
The Schumacher SC1281 6/12V Fully Automatic Battery Charger is the ideal car battery charger for owners of trucks, SUVs and larger vehicles. It can easily charge a wide variety of battery types, such as AGM, gel, and deep-cycle batteries, along with standard batteries.
Packing a little more punch than a regular car battery charger, the SC1281 is designed for those vehicles that are larger than your average car. With a 30A quick boost and 100A jump start, this charger gets the job done for your SUV or truck. 

2 new from $72.99

8 used from $57.94

Free shipping
Last update was on: November 29, 2023 11:20 am
POWERFUL PERFORMANCE: The Schumacher SC1281 delivers 100A engine start, a 30A boost, and 6A2A charge/maintain rates; Strong enough for cars, SUVs, and trucks
30A BOOST MODE: The boost modes quickly bring deeply discharged batteries back to life
ADVANCED DIAGNOSTICS: A built-in battery and alternator tester determines charge level and helps diagnose electrical problems
FULLY AUTOMATIC: The charger features multi-stage charging, bad battery detection, float mode monitoring, and reverse hook-up protection
Let's take a look at more advantages of the Schumacher SC1281, as well as a few disadvantages.
Pros
Includes Advanced Diagnostic Testing
One of the things we liked most about the SC1281 is that it comes with advanced diagnostic testing, which allows you to troubleshoot any issues your battery might have quickly.
While not a replacement for a certified mechanic, diagnostic testing is a great resource for those who want to get a holistic overview of the condition of their battery before taking it into the shop. Advanced diagnostic testing also enables you to diagnosis potential electrical problems.
Incredibly Powerful Charge
When it comes to battery chargers, not all chargers are created equal and for larger vehicles, a regular battery charger often won't do. Schumacher designed its SC1281 6/12V Fully Automatic Battery Charger specifically to be able to charge batteries of larger vehicles with ease.
Better yet, you can still use this battery charger to charge the battery of smaller vehicles as well if needed but either way, the Schumacher battery charger can charge your batteries quickly without a long wait. You can choose between the 100A and 30/100 A option, depending on your specific needs.
Auto-voltage detection
Given that there is a wide range of batteries that your truck or SUV may use, it's essential that your battery charger can work with a variety of batteries safely. The auto-voltage detection ensures that the charger uses the correct voltage when recharging your battery and reduces the chance of an accident from too much voltage. The Schumacher battery charger also used multi-stage charging to ensure a smooth and efficient charge throughout the entire process which possibly helps your car battery in the long run.
Can Be Used A Wide Range of Batteries
Out of the many battery chargers we reviewed, the Schumacher SC1281 6/12V impressed us most with the wide range of batteries it was able to work with and its compatibility with standard, AGM, and deep-cycle batteries make it a great choice for most truck and SUV owners.
Enhanced Safety Features
The Schumacher SC1281 6/12V includes reverse hook protection, also known as reverse-polarity protection, which prevents the charger from operating if the clamps are reversed. The potential for damage and injury is high when not charging the battery properly, which is why we liked this added safety feature.
High Quality
The Schumacher brand is well-known for quality, and we found the battery charger to be incredibly high quality indeed. That quality goes a long way in ensuring you can use this battery charger for many years to come and while some battery chargers seem cheap, you can tell a lot of work went into this charger to make it one of the best on the market today.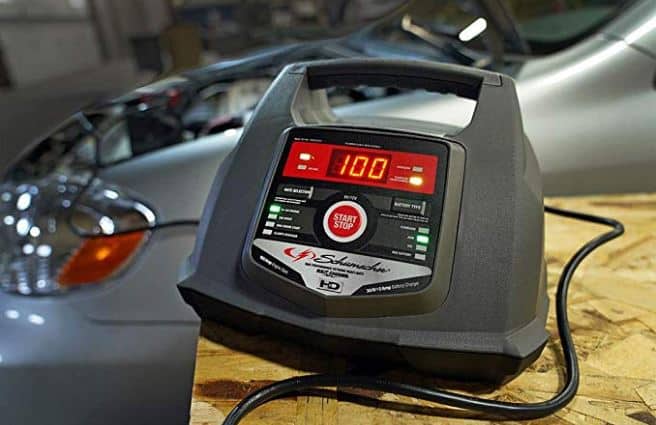 Cons
While we were pleased overall with the Schumacher SC1281 6/12V, it does leave a little room for improvement.
Small Clamps
One of the things we would like to see improved is that the clamps are a little bit on the small side. While the clamps work as intended, for battery charging, we would have preferred them to be a little bigger for easier handling.
Better Instructions
Given the importance of charging a battery correctly, we would have liked to see the Schumacher SC1281 6/12V come with a little more in-depth instructions on how to use the battery charger.
While Schumacher is known for their helpful support, we thought this was a missed opportunity to over-deliver. That said, there are incredibly detailed instructions on how to use the battery charger correctly available on their website.
Summary
If you're looking for a high-quality battery maintainer or charger, the Schumacher SC1281 6/12V is an excellent option to consider. No one enjoys getting in their truck or SUV only to find that their battery is dead.
This battery charger is an incredibly high value in light of the relatively low price point, and experienced automobile enthusiasts and beginner drivers alike can use it.
If you're looking for an affordable battery charger that works exactly as intended, you won't be disappointed with the Schumacher SC1281 6/12V.
Gallery
Conclusion
For any truck or large vehicle owner, being stuck with a dead battery can really put a damper on your day. While not perfect, we found the Schumacher SC1281 6/12V to be a worthwhile investment for those needing a battery charger with a little more power.
If you need a charger that can handle larger-sized batteries, the Schumacher SC1281 6/12V is a solid choice to consider. If you use your truck or SUV regularly, you owe it to yourself to invest in a reliable charger, so you aren't at the mercy of a dead battery.
If you want to know more about car jump starters and boosters, see our list of best car battery jump starters.