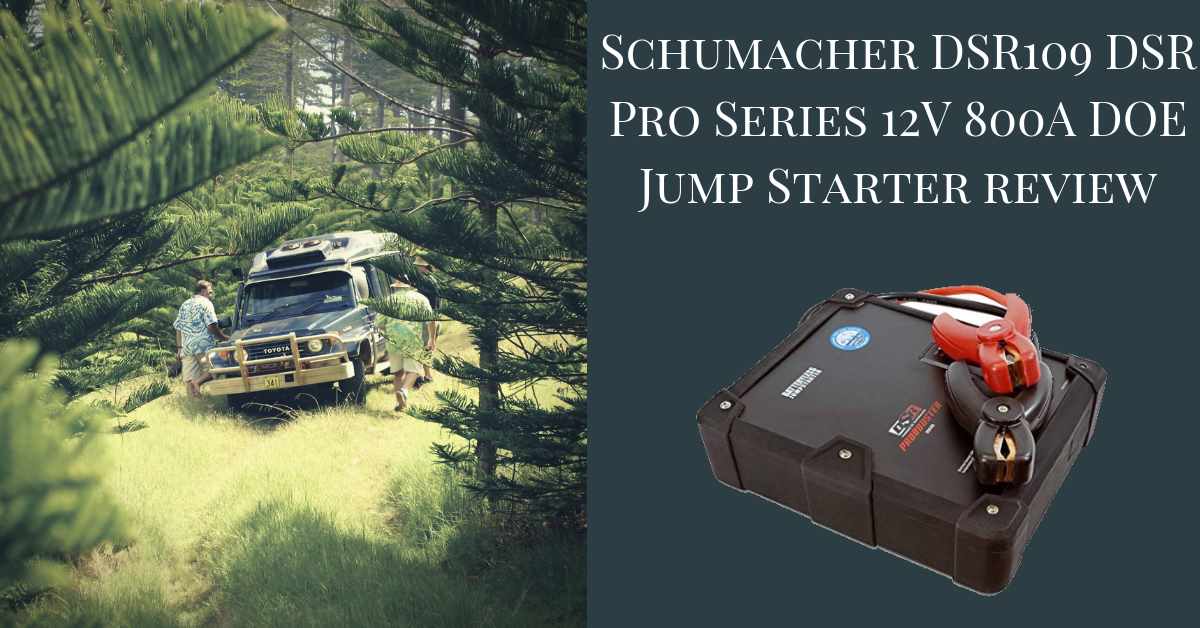 For millions of Americans around the country, their car is one of their most prized possessions. We use our car to get to work, to take the kids to school, and to make the 10-hour road trip to go camping for a much-needed vacation.
While our cars are incredibly designed and work flawlessly most of the time, not being able to start your car when you need to can result in incredibly stressful situations.
Are you stuck in the parking lot at work? Battery dies while on the road away from home? Unfortunately, these situations are quite common. If you haven't had your battery die, it's not a matter of if, but when. Fortunately, investing in a high-quality car battery booster can help you get back on the road in no time.
Here's our review of the Schumacher DSR109 DSR Pro Series 12V 800A DOE Jump Starter, which is an excellent car battery jump starter option.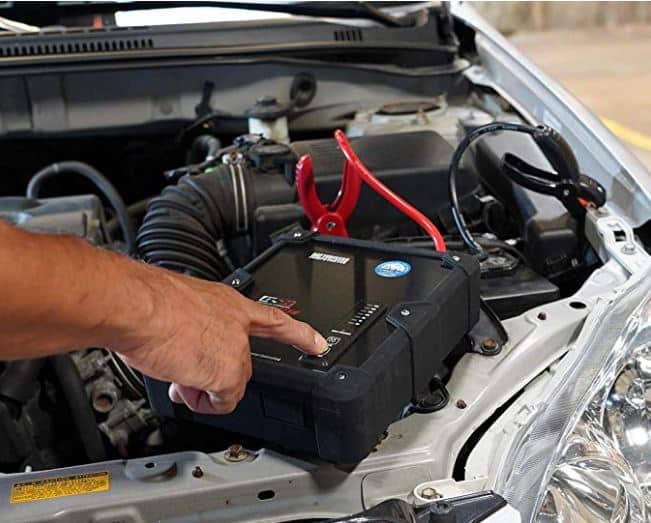 Highlights
The Schumacher DSR109 is a fantastic all-around car battery jump starter and works well for those situations where you need to start your car in a hurry. Manufactured by the reputable Schumacher brand, this Schumacher booster is known for its high quality, while also being both affordable and easy to use.
Powered by an ultracapacitor, this jump starter is incredibly safe and is a reliable option for those concerned about safety.
Built to reliably jump start your car every time, it's a handy product to keep in your vehicle for that rare occasion when your battery dies. Let's take a look at its pros and cons in our Schumacher jump starter review.
Pros
Uses an Ultracapacitor Instead of Battery
One of the reasons this Schumacher jump starter is so popular is that it uses an ultracapacitor instead of a battery to get your car running again. It is widely believed that using an ultracapacitor is significantly safer than using a battery to jump start your car battery. It's virtually impossible for a fire or explosion to take place when using an ultracapacitor. The main difference between ultracapacitors and batteries is in how they store energy. Batteries produce and store energy by means of a chemical reaction. Ultracapacitors store energy in an electric field (maxwell.com).
It's Small and Lightweight
This jump starter battery pack is incredibly lightweight, which makes it easy to transport and move when needed. While some jump starters are heavy and difficult to maneuver, the Schumacher DSR109 DSR Pro Series is light enough for someone who doesn't have much strength. A young teenage driver or older adult could use it effortlessly.
In addition to being lightweight, the jump starter is also small compared to other options. That's a nice bonus if you have a smaller car and not much room to store it.
Boasts Extended Use
Because the Schumacher DSR109 DSR Pro Series doesn't use a battery, you can use it significantly longer than a traditional jump starter that does. You can realistically expect to be able to use this jump starter for up to 10 years or 10,000 uses, which are more than enough for most people who own an automobile.
It's Easy to Use
While some jump starters may feel like they require a university degree to use, one of the best parts about this jump starter is that it is both intuitive and easy to use. It features step-by-step instructions right on the box itself, which anyone can follow. There's no point in carrying a jump starter if you can't use it without needing the help of an expert to get your car started.
Works in Cold Weather
Some jumpstart packs struggle in colder conditions, which is not an issue for Schumacher DSR109. The perfect jump starter for those who live in the colder areas of the country, you can reliably use this no matter how cold it gets.
Incredibly High Quality
Last but not least, this jump starter is built with high-quality material and, of course, manufactured by the well-known Schumacher brand. When buying a jump starter, you want the peace of mind that comes from knowing it will help you get your car running when you need it most. That's exactly what the Schumacher DSR109 offers.
Cons
While the Schumacher DSR109 is a fantastic jump starter option, it's not perfect. Here are a few things we didn't like during our jump starter review.
Premium Price
If you're on a budget, this jump starter might be a bit of a stretch, as it does land on the slightly expensive side. Of course, the price difference compared to other options isn't massive. But for those looking for the cheapest jump starter on the market, this probably won't be for you.
No Case Included
Some other jump starter products on the market include a high-quality case for you to store it in. Unfortunately, that's not the case here. Given the premium price point, we would have loved for a case to be included. However, we can't fault Schumacher here too much, given the high quality of the jump starter itself.
Additionally, this jump starter only works for 12V systems. That could be a deal-breaker if you don't have a vehicle that uses 12V.
Summary
The Schumacher DSR109 is a tremendous all-around jump starter that does exactly what it is designed to do: jump-start your car. While there are dozens of options to choose from, this is one of the higher-quality and reliable jump starters we have had the chance to review.
Given that the Schumacher name stands behind it, we are confident that it is a wise addition to your car accessories purchases. This product will provide you with peace of mind, knowing you won't be caught stranded with a dead battery. It's easy to use, lightweight, and will reliably kickstart your battery when needed.
Conclusion
Jumpstarters are an incredibly valuable purchase for any car owner, whether you're frequently on the road or want to be able to take your car out for a spin after a period of little use.
The Schumacher DSR109 is a great investment because you can expect to use it for many years to come. I's ease of use makes it stand out in a competitive market for jump starters.
While the price might be a little high for some, if you can afford it, this is one of the best jump starters money can buy. If you are looking for a new jump starter or have yet to invest in one, you can't go wrong with this overall solid jump starter.
If you want to know more about car battery boosters, see our up to date list of best car battery jump starters.