Updated: September 2023
If you have ever been stranded on the side of the road with a flat battery, you already know what jump starters are – as you have probably looked into them. For anyone unfamiliar, let us introduce you to the car jump starter, also sometimes called car battery jumper box, jump starter pack or even booster pack.
What is a car battery jump starter?
The concept is rather simple no matter what you call it – a temporary connection is made to the battery of another vehicle, or to some other external power source. The external supply of electricity recharges the disabled vehicle's battery and provides some of the power needed to crank the engine. Once the vehicle has been started, its normal charging system will recharge, so the auxiliary source can be removed.
You won't use it 99 per cent of the time, but it will come more than handy when you actually do need to use it. As they say, the best car battery jumper box is the one you have when you need it but as most flat batteries happen when you least expect them, for instance, a road trip or when in a rush so when you don't have one, the only other alternative to the jump start battery is jumper cables. The problem with jumper cables is that you're left at the mercy of a kind fellow motorist to lend you their battery so you can jump-start your car. That's not always possible, nor is it fast.
A great thing about car jump packs is that most of them are relatively small and don't occupy a lot of space, so you can carry them around with you all the time. What's more, most of them have lots of other practical and functional uses and features, but choosing the perfect one can be overwhelming if you're not too familiar with the subject.
Reading the lines above you may ask: What is the difference between car battery jump starter, car battery booster pack and battery jump box? The answer is fairly simple – none at all, it is the same thing, just called differently.
Best car battery jump starters
Now let's continue to the detailed best jump starter pack reviews.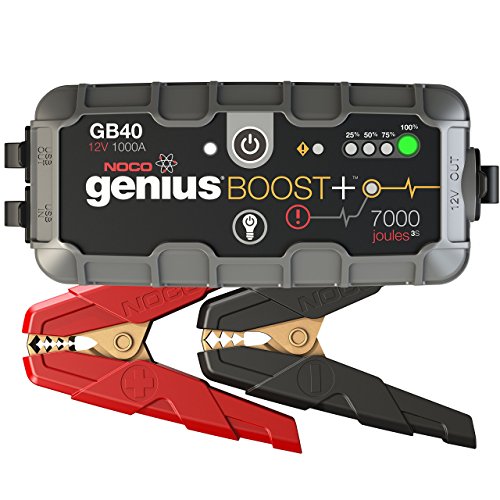 This compact, yet powerful lithium battery jump starter pack rated at 1,000 Amps is great if you have an SUV or generally vehicles with a bigger engine. It has enough capacity for repeated jumpstarts without losing an excessive amount of power whilst cranking the engine so it packs a lot of power in a relatively small and sturdy body.
It is also very easy and safe to use because it is equipped with a spark-proof technology that ensures that you can connect your battery to it correctly and without any worries.
Extras like USB ports and a flashlight are really handy as you can use this booster pack to charge your iPhone or tablet several times.
On the downside, this portable battery jump starter doesn't come with its own wall outlet charger so needs to be charged from either a 12V car charger or USB.
You can find a more-expanded version of the review of the NOCO GB40 here along with a great video showing its capabilities.
Review Verdict
This portable battery jump starter packs a ton of power and capacity for repeated jump starts of even bigger engines (4.5 – 6L). It's a sturdy and well made and the flashlight and two USB ports make it a perfect accessory for almost any car as well for charging your phones whilst camping and one of the best jumps starters on the market.
18000amh combined with up to 800 Peak Amps gives this compact battery jump starter a lot of power to start gasoline & diesel vehicles – the manufacturer claims that it will jump start up to 7.2L gas or 5.5L diesel engine up to 20 times on a single charge.
We haven't tried 20 times, but in any case, if the dead battery is the only issue your car has, it should work.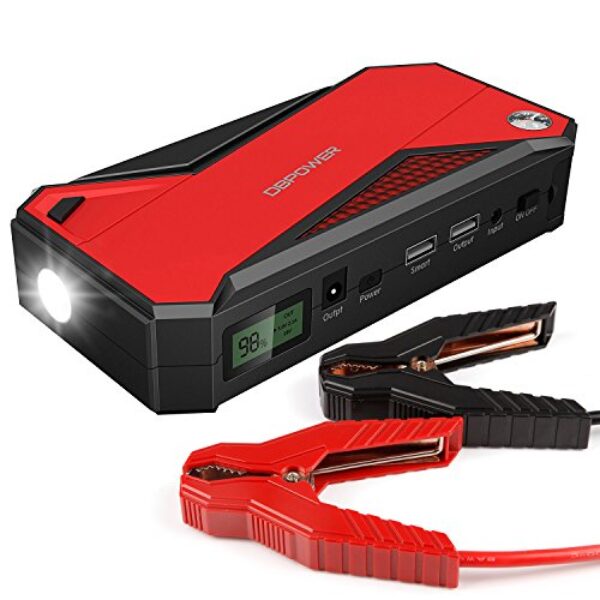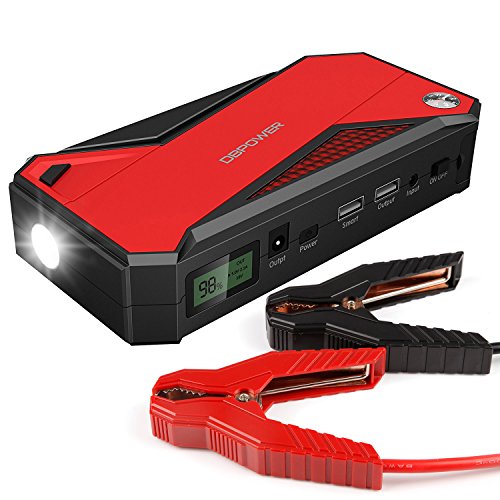 It is fitted with an LED flashlight with several modes and equipped with 2 USB ports – a 2.1A USB Output and a 2.4A smart USB port to quickly charge cell phones, tablets & cameras, and 12V/16V/19V output to charge things like cellphones, tablets, kindles etc. It also sports a handy display so you can see how much capacity is left and a handy built-in compass in case your scouting and survival skills are a little rusty.
Beyond the technical specs, the instructions are super-easy to follow, and the the jump starter is dead-simple to use and the over-current protection, short circuit protection, overload protection, over-voltage protection, over-charge protection – provides well, a lot of protection so the chances of hurting your car are fairly minimal.
Review Verdict
DBPOWER 18,000mAh multi-functional compact battery booster delivers a great bang for your buck. Powerful yet small and portable with tons of accessories like laptop charger adapters and 12V/16V/19V output and fitted with smart features for peace of mind, make it an excellent companion for those times when you, your loved ones or fellow drivers need help.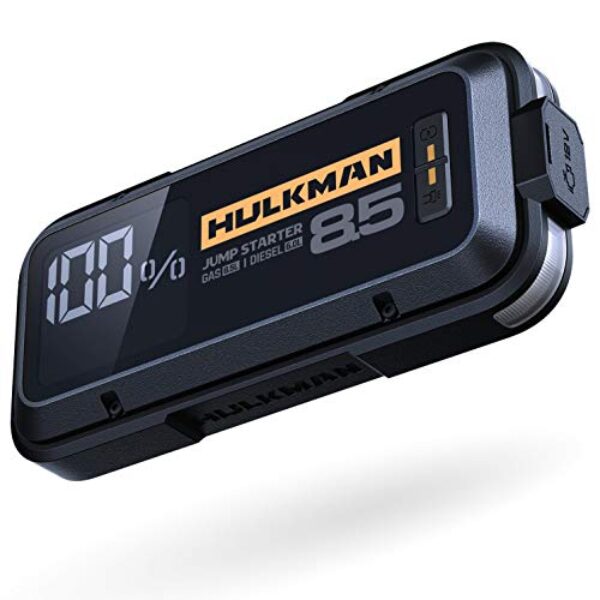 The Hulkman Alpha85 is one of the newer kids on the jump starter block. It has
2000 peak cranking amps can start the vehicles up to 8.5L Gas/6.0L Diesel engines and a single charge should allow for up to 60 jump-starts.
The Hulkman Alpha85 is one of the newer kids on the jump starter block. It has 2000 peak cranking amps, so it can start up to 8.5L Gas/6.0L Diesel engines, so unless you are trying to jump start a semi or your trusty 640HP John Deere 9R, you should be, in most cases, okay. It has several levels of protection which makes it safe to use without too much thinking.
On the outside, you can't miss the massive 3.3-inch display with battery status, remaining capacity and warnings, which is a true blessing when your car battery decides to go dead after dark (or your eyes are not the best anymore).
Other features include 400 Lumen LED light, USB-A, USB-C and 12V outlets to power tire inflators, inverters or heated car blankets. The build is solid, and make no mistake; weighing 4.62 pounds, it is not a mini jump starter but still fits into a glove compartment well.
It charges from the 120v wall outlet (charger IS included) and goes from 0% to 100% in less than 1.5 hours, and from 66% to 100% in about 20 minutes plus apparently, 20% of power is enough to start smaller cars if necessary.
The clamps are of a decent size and sturdy enough.
It does not come with its own case, but Aproca Hard Storage Travel Case for BESTEK 500W Power Inverter/NOCO Genius G1100 Battery Charger seems to be a solid choice.
Review Verdict
A lot of thought has gone into this jump starter, and we like the combination of sturdiness, power, quick charging and the large display.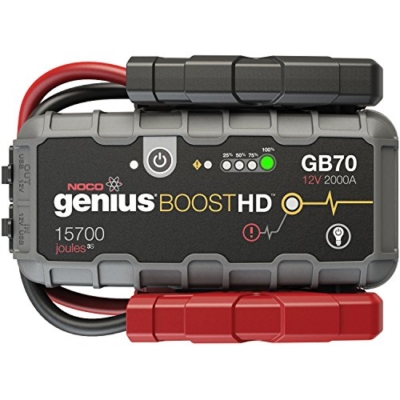 Long story short, for larger engines, you need more punch, and GB70 is precisely that type of battery booster pack. Powerful, yet still reasonably sized, this is undoubtedly one of the best jump starters out there.
F250s, Kubota tractors, V8 beasts, you name it, it's capable of starting up to 8.0L gas and 6.0L diesel engines up to 40 times on a single charge.
It sports reverse polarity and spark protection, which helps you avoid any damage to your car if you happen to connect the clamps to the wrong terminals, making it mistake-proof.
On the outside, it is fitted with:
400 Lumen LED flashlight with 7 light modes, including SOS and emergency strobe
1A USB port to charge cell phones, tablets & cameras
12V 15A output for electronic devices such as inflators
There are 2 options to charge it – via the 2.1A Micro USB, and 12V 3A fast charge.
It is not the smallest (8.8×6.0x2.8in) nor the lightest (4.18lbs), but it is really well made.
It comes with a microfiber storage bag, but we recommend getting a proper protective case – NOCO Protection case (click here)
While this jump starter is not top of the line in terms of features such as displays and an array of ports, what we love about it is that is just does the job, and it does it well. This is a US-designed piece of hardware that simply delivers.
You can also check our separate review of the GB70 here.
Review Verdict
GB70 is a powerful battery booster pack designed to last and jump start larger engines. Well-designed and built body with durable clamps and smart & safe technology to protect your car.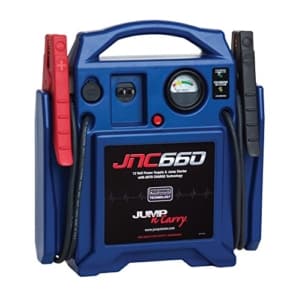 With 18 lbs and dimensions 16.3 x 14.1 x 5.1 inches you know right away that this car battery jump box is on the more professional/heavy duty side of things. It comes with 44″ long #2 AWG cables so it's easy to reach even more awkwardly placed car batteries and ensures the maximum power delivery.
With its capacity, it is a great battery jumper box for tow truck drivers, fleet managers and is able to jump most of the usual vehicles and some (tractors, diesels, etc.). It's not one that you would carry around much but that's not what it's for. 12V output and inbuilt charger complete the pack.
The downside to this car jump starter is that there is no on/off switch, so you must be careful as it always has power and also, due to the inbuilt charger you need an extension lead or C2G / Cables To Go 03115 6ft 18 AWG Outlet Saver Power Extension Cord (NEMA 5-15P to NEMA 5-15R) which is sold separately. And, quite obviously, if you are after a portable or mini car jump starter, this might not the best one. On the other hand, if you drive a truck or something larger, this is a good one to go for.
Review Verdict
Jump-N-Carry JNC660 car battery jump box is one of the best jump starter for those who need that extra bit of power or are after something that will deliver a great amount of power on regular basis. It's strong but also heavy. If you have enough space, wall socket, and an extention lead handy, you can't go wrong with it. Also, the customer service is great so if you happen to need something, these folks got your back.
NEXPOW 2000A jump starter
The NEXPOW 2000A Peak Car Jump Starter is a powerful device that can jump-start a wide range of vehicles, making it a versatile tool for any driver. It's capable of jump-starting gasoline engines up to 7.0 liters and diesel engines up to 6.5 liters (take this, again, with a pinch of salt), covering most passenger vehicles on the market. We are confident that for most passenger cars and trucks you will be just fine.
Despite its power, the NEXPOW 2000A is surprisingly compact. It's small enough to fit in your glove box, ensuring that it doesn't take up too much space. This compactness, coupled with its rugged design, ensures that it can withstand the rigors of use, so it should last you a bit.
The NEXPOW 2000A is not just about power and compactness; it also sports safety features such as over-current protection, overload protection, and reverse polarity protection. These ensure safe operation and prevent damage to both the device and the vehicle even if you make a mistake.
Beyond its primary function as a jump starter, the NEXPOW 2000A also doubles as a power bank. This feature allows you to charge your devices on the go. It also features a built-in LED flashlight, which can be a lifesaver in emergency situations or when you're working in low-light conditions.
We recommend checking the charge at least once a month just to make sure the unit is charged as when it gets to lover levels of charge (as with any jump starter), the ability to start larger engines deteriorates. It takes about 4-6 hours to charge so make sure you charge it after using it so you don't get caught with an empty unit when in a hurry.
Review verdict
The NEXPOW 2000A Peak Car Jump Starter is a reliable and versatile tool that offers good value for its price. Its powerful performance, compact design, and safety features make it a worthy addition to any vehicle. However, its performance can be inconsistent when the battery is low, and it may struggle with larger engines. As such, it's best suited for use with smaller to medium-sized vehicles.
HPBS Jump Starter – 2000A Jump Starter Battery Pack
The HPBS Jump Starter stands out for its powerful performance. With a peak current of 2000A, it can easily jump-start 12V vehicles. The manufacturer claims that it can start up to 8L gas or 6.5L diesel, and the great thing is that it can do it repeatedly thanks to its battery capacity, but only with "smaller" engines (so if you have a massive V8, look for one of the strong NOCOs). One thing we really liked is the 3.0″ LCD display. This display provides all the information you need (even in the dark), eliminating the annoying guesswork about the status of your jump starter, or your vehicle's battery.
The HPBS Jump Starter comes with more than eight types of protection, including over-current protection, overload protection, and reverse polarity protection so even if you manage to connect cables to wrong terminals, you won't destroy anything. These safety allow to start-up a dead car battery, even in extreme environments ranging from -4°F to 140°F, which is particularly handy in winter.
As a power bank, the HPBS Jump Starter has a large capacity of 20000mAh, features a quick charge 3.0 port, allowing you to charge your mobile devices quickly, and also comes with an LED flashlight with three modes (flashlight, SOS, strobe).
Review verdict
The HPBS Jump Starter – 2000A Jump Starter Battery Pack is a powerful and versatile device that offers a range of features designed to assist drivers. Its powerful performance.
LOKITHOR J401 Jump Starter 2500A 20000mAh 12V Jump Starter
The LOKITHOR J401 Jump Starter is a powerful, versatile, and reliable jump starter that offers a range of features designed to get you back on the road quickly and safely. When you take it out of the (well made) box, the device itself is surprisingly lightweight, yet feels solid and well-built. The jumper cables and clamps feel thick and durable.
There are multiple "modes" that help you start what you need, such as the boost mode which comes super handy when your battery is less than 1V (essentially too low to be even recognized) – by pushing 2 buttons for 3 seconds, you force the jump starter to work as there is a battery hooked to it and "unlock" the boost mode – and it will jump start with no trouble. With a peak current of 2500A and a 20000mAh capacity, it has enough power to start engines of various sizes.
On of the things that stood out for us is the 100W USB-C Power Delivery port, which is not that usual for jump starters. This allows for fast charging of most USB-C laptops and also enables the power bank to be recharged in under an hour with a 100W PD wall charger. However, it's worth noting that some variants of this jump starter does not include a 100W charger, but we recommend the bundle that has it.
It is IP65 water-resistant, meaning it can withstand splashes of water so you don't need to worry using it in heavy rain, just don't submerge it.
Review verdict
The LOKITHOR J401 is a compact, lightweight, and powerful jump starter that can easily start large vehicles, even without a battery. It's also a handy device to have for charging your phone quickly, thanks to its 60-watt two-way fast charging.
At around $140, the LOKITHOR J401 offers excellent value for money.
Conclusion
And what is the best car battery jump starter? Only you know because only you know what you expect from a booster pack and in what conditions/how often you expect to use it.
Did not find what you were looking for? Check our list of the best portable jump starters!
Expanded reviews of the following jump starters:
Must-know section
Buying a jump starter can be confusing. When buying a jump starter, you will find that there is very little consistency among jump starter manufacturers in marking the jump boxes – some manufacturers list in their product specifications just peak amps, some cranking amps, cold cranking amps or just "amps", some mAh and, quite usually, a combination of those. Some even list joules to confuse you even more. What's the difference? Which one is a better reference and guidance to buying a jump starter for your ATV, car, truck or snowmobile?
Here is a little list of definitions to help you know what is what in the world of jump starter terminology.
Peak Amps – generally, peak power ratings are there to impress people. Always refer to the cranking amps and cold cranking amps when comparing jumpstarters.
Cranking Amps (CA) – refers to the amount of power that a battery can discharge for 30 seconds at 32° F (0° C).
Cold Cranking Amps (CCA) – refers to the number of amps that a battery can push out for 30 seconds at 0° F without dropping under 7.2 Volts.
mAh – A milliampere-hour (mAh) is 1000th of an ampere-hour (Ah). Both measures are used to describe the energy charge that a battery will hold and how long a device will run before the battery needs recharging.
In general, higher cranking amp ratings are better as this would be the actual power to start your battery. A jump starter with at least a 500 CCA rating should be able to start just about any vehicle with a dead battery. You can find more information in our Peak Amps vs Cranking Amps (and more) post.
Most cars have a 12-volt battery, but older, classic vehicles use a 6-volt battery, and so do certain tractors. Check your battery's voltage and buy a jump starter pack matching your battery.
As far as the power of the jump box goes, the more the better. The battery needs to have sufficient peak amps, as well as cranking amps to start your car. In other words, most cars require modest power to start, but vehicles equipped with bigger factory batteries such as luxury limos, motorhomes and off-roads might need a more powerful jump starter. Again, make sure to pay attention to your own car battery and match the cranking amps.
How to jump-start a car?
Jump starting a car with a dead battery can seem like a difficult task if you've never done it before but it is not. Follow these 10 easy steps and jumpstart your car like a pro.
Battery maintenance and charging
Besides the alternator, the battery is one of the most vital components in every automobile's electric system. It provides the juice to run all of your expensive electronic devices when the engine isn't running, and when the engine is running, it plays a vital role in the proper functioning of the alternator's voltage regulator. If you want to know more, read our Car Battery Maintenance and Charging post.
Car battery and extreme temperatures
The winter period is critical for car batteries. Drivers usually start thinking about getting a new battery when the frosts last a long time or are really tough. In a lot of cases, they only decide to change the battery when they are forced to as their car did not start that morning. What most people don't know is that there are other factors… Read our post Did not start? The frost is most likely not what killed your car battery.
How Do Car Battery Jump Starters Work?
Although they might seem complex, car battery jump starters are actually fairly simple to understand. A car battery jump box helps your alternator (a small electrical generator located on top of your engine) when your car battery is dead.
It does this by providing an alternative electrical source and "kickstarting" the engine. A car battery jump starter doesn't recharge the battery. It only provides enough electricity to get your car going.
Once your car is running, the alternator can recharge the battery while you drive around, but first, you have to get that car started! There are several main categories to think about when you are looking at how car battery jump starters work.
What types of car battery jump starters are out there?
When you first consider car battery jump starters, it's important to know that there are three main types—portable battery jump starters, plug-in car battery boosters, and ultra-capacitor jump starters. Often, you'll see different words used interchangeably to describe them, which can be confusing.
You can call it a car battery booster or a battery jump starter—it means the same thing. It's an item that will help you start your car when the battery is dead without needing another car for the jump.
Other names that you might see are car battery jumper, car battery jump box, and car battery booster. There is no difference between what they are, and so we'll use them interchangeably here. There is a difference, however, between those that are portable and those that are plug-in.
Plug-in car jump starters
Plug-in car battery booster packs are often bulky and large. They also require an outlet. Subsequently, plug-in battery jump starters don't need to be charged in advance. This aspect can be an advantage because portable jump starters take a long time to charge. The need for an outlet makes them inconvenient, though.
Portable car jump starters
Portable jump starters are often smaller and more compact than the plug-in variety. However, they do need to be charged regularly. Because they charge slowly, it can also take a long time for them to charge. Another downside is that, over time, their ability to hold a charge decreases.
Within the category of portable jump starters, you also have two variations. Power packs are for smaller battery needs. They maintain a low charge over a longer period. Jumper packs are designed to "jump" in the sense that they create higher output, but for a short amount of time.
Both power packs and jumper packs can restart a discharged battery. However, the jumper pack will work better with a battery that is entirely dead or close to it.
If you're looking for something to help your car battery recharge, you want to make sure that you are getting a car battery charger, not a car battery jump starter. Regardless of whether you need a battery charger or a jump starter, though, it's essential to find an option that will work with your car battery's voltage.
Most cars use a 12V battery, but some older models (and tractors) use a 6V battery. Many trucks' batteries are 24V batteries.
Ultracapacitors – what are ultracapacitor jump starters?
The newest option on the market, ultra-capacitor jumper starters, offer a fast, lightweight, and portable option. Instead of traditional batteries, these jump starters use capacitors to store energy.
Unlike a battery, which utilizes chemical reactions to store energy, ultracapacitors use an electrostatic field. As a result, they are far more efficient but, more importantly, can charge off a smaller current, charge faster, and release energy faster.
These jump starters can use the residual energy in your battery to start your vehicle. They don't need to be charged before use. Though, most models do offer the option to charge the unit via USB, a wall charger, or even a 12V auxiliary power outlet in your or another vehicle.
Now that we've covered some of the basic types of car battery jump starters, let's take a look at the technology that's inside of them.
What batteries are used in jump starters?
With the exception of ultra-capacitor jump starters, the technology inside of car battery booster packs begins with the batteries. There are two main types of batteries that you'll find in car battery jump boxes—lead-acid batteries and lithium-ion.
Lead-acid batteries are similar to the battery inside of your car, while lithium-ion batteries are used in most smartphones and portable electronics. There are advantages and disadvantages to each that we will cover later.
If you're working with just a standard car battery jump starter, you'll have several other tech components aside from the battery. Today, many devices come with multiple safety features. Common safety features include a reset button, high-quality cables and clamps, and reverse-polarity protection.
What are some of the jump starter security features?
Reverse-polarity protection
Reverse-polarity protection ensures that damage doesn't occur if the power supply polarity is reversed. What this means, practically speaking, is that it's there to help protect you and your vehicle in case of something serious going wrong. Reverse-polarity protection shuts off the power supply to minimize potential damage. It also helps protect from fire.
Cable quality
Quality cables and clamps are critical because they provide the connection between the battery booster and your car battery. Cables that are fraying or damaged should not be used.
Durable cables ensure safety and longevity. As the main point of contact, you want clamps that are safe as well. One thing to consider regarding the cables is the type of material used in their construction. Industrial-grade copper is always a good option.
Jumps starters – additional features
Many car battery jumpers boast multiple additions so that you get the most out of your purchase. Some technologies that you may find added to a car jump starter are air compressors, emergency lights, and power-inverter technology.
Air compressors allow you to inflate a flat tire, which can be very useful–nobody likes to be stranded.
Emergency lights are especially helpful if your car won't start at night. Even if it isn't night, emergency lights can still notify other drivers of your presence on the side of the road. Some car jump starters come with lights on the pack itself. Others have emergency lights on the cables that make it very easy to place the clamps in the correct spot if it is already dark or dim. Often emergency lights use LED bulbs that are highly energy efficient.
Power-inverter technology allows for the current in the car battery booster pack to be converted from DC (direct current) to AC (alternating current). This ability enables you to use the battery jump starter to charge a phone or another device that uses USB charging. Some even have enough power to charge a laptop if you have the proper adapter to do so.
Car battery technology in-depth
Next, let's take a more detailed look at the most important aspects of a car battery jumper, beginning with the battery types.
Lead-acid batteries
Lead-acid batteries have been around since the mid-1800s when Gaston Planté invented them. They are much less expensive than lithium-ion batteries and supply the high current required for car motors with ease. That's why many cars are equipped with them.
Lead-acid batteries are composed of multiple cells that function by chemical reaction. Inside of the cells are sponge lead, lead peroxide, and dilute sulfuric acid. As the sulfuric acid dissolves, it breaks down positive hydrogen ions and negative sulfate ions.
More chemical reactions occur, and, in the end, the chemical energy becomes electrical energy via the thin plates inside of the battery (the interface between the electrodes and the electrolyte).
Lithium-ion batteries
Lithium-ion batteries were developed more than 100 years after lead-acid batteries. They are tied directly to modern electronics and were a result of various researcher's work between the 1970s and 1980s.
There are many different types of lithium-ion batteries, but most contain the same three essential components, one of which is always a variation of lithium. Pure lithium is highly reactive, and so the lithium inside of batteries is generally mixed with something else. Just like lead-acid batteries, lithium-ion batteries are made of electrodes and electrolytes.
Ultra-capacitors
Ultra-capacitors aren't exactly a battery, but they can store energy like a battery. Sometimes called conductors, capacitors are common in computer components. They consist of two conductive materials separated by an insulator.
When exposed to energy, an electrical field forms across the insulator, and a charge builds on the conductors. While they can store more energy for a short time and charge/discharge faster, capacitors aren't great for long-term storage. That's why they aren't used as batteries but work well for jumper starters where all that's needed is a sudden jolt of energy to start the alternator.
Technical terms you may encounter when in buying a jump starter
The technical language used is part of the challenge as far as understanding how a car battery jump starter works. When you are looking at different car battery jump starters, the words used to refer to the battery's power can range from joules to amps to amps per hour (AH).
Although these words are not interchangeable, the easiest measure to consider when you want a car battery jump starter is probably the CA rating and the CCA rating. CA rating is the cranking amps rating. Most four- or six-cylinder engines will require a minimum of 225 CAs.
The CCA rating stands for cold cranking rating and refers to how well the jump starter does in cold weather. Specifically, it measures the number of amps delivered by a 12V battery for 30 seconds when it is 0°F. The battery needs to produce at least a voltage of 7.5 while it does this.
If you live somewhere with harsh winters, you know that there's a higher chance of your car battery needing a jump at some point during the winter months. You want a jump starter that's able to withstand the cold temperatures and still provide an effective jumpstart to your dead car. For more details you can refer to our peak amps vs cranking apms guide.
What are the pros and cons of lead-acid car battery jump starters?
Although their size profile has decreased over the years, car battery jump starters that have lead-acid batteries still tend to be significantly heavier and bulkier than other car battery boosters types. On the other hand, those with lead-acid batteries usually contain more power and are stronger than the others.
If you have a car that requires a higher CA rating (cranking amps), you might want to lean toward a jump starter made with a lead-acid battery. Lead-acid batteries are often better for higher cylinder engines for this very reason.
Typically, lead-acid batteries have a higher CCA rating as well. So, if you live in a colder climate or a place that has harsher winters, a lead-acid car battery jump starter is probably a better option for your needs.
A disadvantage of these types of jump starters is that they do require more frequent monitoring to make sure that they remain charged. Additionally, the time needed to recharge a lead-acid battery is usually more extensive than what a lithium-ion battery requires.
What are the pros and cons of lithium-ion car battery jump starters?
Car battery boosters using lithium-ion batteries frequently can provide multiple jumpstarts before they need to be recharged. They also tend to hold their charge for longer than lead-acid batteries do.
Perhaps the second-best feature of car battery jump starters with lithium-ion batteries is how small and portable they are. Many of them fit inside a glove compartment or even a purse or backpack. That makes them the perfect tool for a motorist with a smaller vehicle such as a motorcycle.
A slight disadvantage of car jump starters that use lithium-ion batteries is that they are not as powerful as the lead-acid variety. Lithium-ion batteries are also more sensitive to extreme temperatures.
High heats and deep colds can reduce the longevity of a lithium-ion battery, meaning your car battery jump starter might not last as long if it's using a lithium-ion battery.
Ultra-capacitor battery jump starters
Ultra-capacitor jump starters are very lightweight and easy to store in your vehicle as you don't have to remember to charge them. Of all the car battery jumpers available, these are the most convenient—especially for emergency use away from home.
However, they may be ineffective if your battery is completely dead, and you don't have an alternative energy source. They also don't usually have accessory options and are the priciest of the three jumper types.
Accessories
The different car accessories provide a lot of useful features for the average motorist. Sometimes instead of having multiple tools, just the one will do–this is a huge plus to consider. However, it is also critical to remember that each accessory technology, such as the compressor or the emergency LED lights, uses the car battery jump box.
Because they draw power, they will reduce the available charge if you end up needing the car battery jump box to jump your car. While some of the extra technologies provide valuable benefits in an emergency, it's probably best not to use something like the inverter with regularity. After all, accessories won't matter if you're left without the ability to jumpstart your car if its battery dies.
Wrapping it up
Even though it seems like there are a lot of details to remember when you're considering how a car battery jump starter works, the most important piece is really to look at your owner's manual to make sure you match your vehicle's requirements to the car battery booster pack that you're considering.
The ideal car battery jump starter for your vehicle will vary based on its litres and the type of engine (diesel versus gas). Vehicles that require more power will need more powerful jump starters.
One crucial final thing to know is that you should never try to jumpstart an electric car. Their engineering is different, and a jumpstart could significantly damage the electronic components of the vehicle.
Our past favorites
As battery technology evolves, jump starters evolve with it. Either same amps in a smaller body, or same body but more punch. New products are coming to the market practically daily so some products do become obsolete, decommissioned or simply not sold anymore. This section captures our past favorites – some of them might come back but some of them are to stay dead.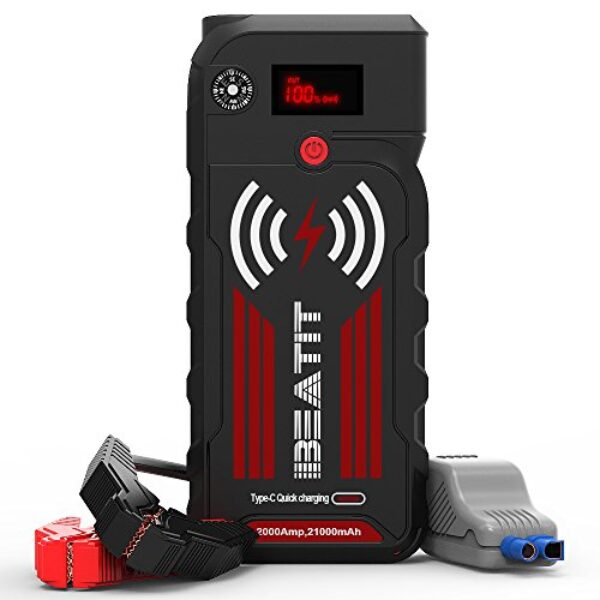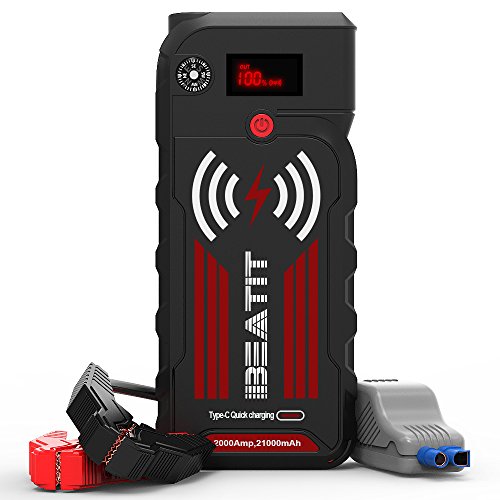 Beatit BT-G18 2000A Peak 21000mAh packs 2000 amps of instant starting power, as well as 2000 peak amps (UL2743 Certified) capable of starting engines up to 8L – it is a powerhouse capable starting Toyota Tundras, F150s, tractors, mowers and anything between. This battery jumper box comes with intelligent clamps (that are long enough) with an integrated voltmeter so it is easy to see the voltage reading. A built-in safety system sounds an alarm if you accidentally connect the clamps incorrectly so it's extremely easy and safe to use – you just need to hook the clamps on the starter to the vehicle battery and switch it on. The built-in light sports several modes (flash, SOS, etc.) and extremely helpful if you need to jump start your car in the night.
It has a built-in dual USB output – both with Quick Charge 3.0. It supports 10W charging to a wireless charge-capable device so you can charge phones like iPhone XR or Samsung S10, etc. this way. It provides a portable power source to charge electronics that use regular USB-A or USB-C including laptops.
Pros
Power
Wireless phone charger
Comes with 3A wall charger
Intelligent and long enough clamps
Solid build
Cons
Lightning cable for iPhones would be a plus
Review Verdict
Beatit BT-G18 is one of the newest car battery jump starters on the market and packs quite a lot of punch for its size. Capability of starting larger engines coupled with wireless charging and a solid build makes it a strong conterder for any glovebox, toolshed or a backpack.
---

Considering how compact (size of a smartphone and weighing less thanhttps://amzn.to/2QsdsAW 1 lb) yet powerful this lithium car battery jump starter pack is and with its ability to boost most gas-powered vehicles up to 7.0L gas and diesel engines up to 3.5L it surely is one of the best jump starters out there right now.
This battery booster pack comes fitted with 2 USB charging ports (5V/2.1A) for your mobile phone or tablet, dedicated laptop output, built-in multi-mode LED flashlight and spark-proof jumper cables that make it impossible to short circuit in the event that the jumper cables are attached incorrectly. Also, it comes with a soft carrying pouch and 12V car and a wall charger. Due to the small size, it fits the glove box easily.
Pros
Power
Size
Fast recharge
2 USB ports and dedicated laptop output
Accessories
Compressor
Customer support
Cons
Review Verdict
Rugged Geek RG1000 Safety – NEW 1000A Portable Lithium Car Battery Booster Pack is an impressive unit for its price. Strong yet small enough and well made and backed up by an excellent customer support and a compressor on top of it all, this should be one of the favorites for your glove box.
---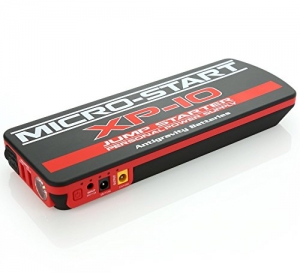 Capable of jump-starting the likes of 5.4 Ford truck or V8 for several times this US-made has been rated as one of the best car battery jump starters in consumer reports.
Small light-weight lithium portable jump starter pack that fits your hand or glove compartment and maintains most of its charge even after a long period of non-use or charge which is a critical feature for jump boxes as they might have gone for months without a charge when suddenly needed.
Due to the size, it's a perfect backup battery pack for charging phones, tablets, cameras, etc.
These jump starters are supplied and relied upon by large government fleet operations as well as Police Depts, Fire Depts and Armed Forces which is the best recommendation a product can get.
According to the manufacturer's website the name Antigravity Batteries comes from the fact that the lithium-ion make-up of these batteries offers up to an 80% savings of weight over lead/acid batteries yet offers over two times the cranking power of a lead-acid battery of the same size.
Pros
Power – Massive 18000 mAh capacity
Small size (only 18 oz)
Holds charge well
Features
Pouch – everything you need is there neatly stored away
Cons
Cables could be longer
Clamps could be sturdier
Higher price
Review Final Verdict
This is a great little and versatile car battery jump starter fits your glove box as well as a backpack if you need it on the go. It packs enough power to save you when you need it and those factors make it a serious contender for the best jump starter.